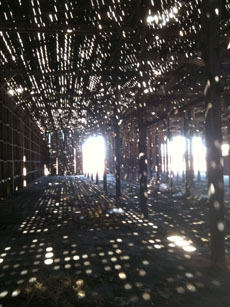 You Are The Doorway
In conjunction with OneBeat ABQ at the Rail Yards, for one night only–Saturday, November 1, 5-9pm.

You are the Doorway  is a series of installations curated by Billy Joe Miller, appearing in the Albuquerque Railyards Blacksmith Shop during the OneBeat ABQ international music event and art happening.  The exhibition explores the concepts of spirit, thresholds and the invisible powers that guide us. Visitors are welcome to interact with artworks across the enormous space. Utilizing painted surfaces, highly crafted objects, knitting looms, natural materials, video and performance, the artists have reflected on their journeys, questioned transformative powers, and made sensitive, powerful, and often participatory pieces in response.  The artists invite guests to step from spectator to participant and consider their own positioning in the dialogue.  Considering the transition of life to death as a slow incremental process with witnesses and participants, Michelle Montjoy sets up her installation, Loom, as a large knitted barrier that serpentines a space between two oversized knitting looms. Participants can choose to either step over the tangled form, or take the position as midwife to the process, and knit more of the sculpture.  Driven by the power of things that need to be seen, heard, and experienced, the forces that transform culture are often delivered to the masses by any means necessary and by the humblest of transport systems.  In The Road to Des Moines [Black Flag Tour Van], William Feeney built a haunting scale model of a 1970's Ford Econoline van out of wood, with working headlights, to consider desire, the vehicle, and traveling, suggesting the transformations that can take place on the journey.
(Featured photo by Ellen Babcock, text from 516ARTS blog.)
Featured visual artists include: Lea Marta Andersson, Ellen Babcock, Corvas Brinkerhoff, Michelle Montjoy, William Feeney, Lance Ryan McGoldrick, Augustine Romero, Adam Wohlwend and Cedra Wood. Video work by Temujin Doran, Jackson Glasgow, Karen Hipscher and UNM Arts Lab. Performance art by Edie Tsong.
Albuquerque Railyards Blacksmith Shop