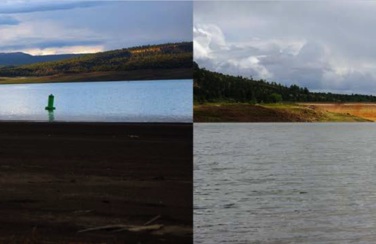 Watershed Bounding
Watershed Bounding is a collection of work from the practice of field-based artists who locate their creative process and critical inquiry in the ecologic conditions of "Place". Showcased in this exhibition are works from Land Arts of the American West students, alumni, faculty, and visiting artists curated around the theme of Watershed. Alongside this is the international traveling exhibition, "Boundless Horizons" which samples work from partnering field-based art studio programs including Australian National University, Field Studies and Mira Costa College, Landmarks of Art, from San Diego.
Participating artists include:
Lea Andersson, Eric Cook, Bill Gilbert, Lauren Greenwald, Jeanette Hart-Mann, Yoshi Hayashi, Ryan Henel, Chrissie Orr, Erika Osborne, Heike Qualitz, John Reid, Randal Romwalter, Chitra Sangtani, Geordie Shepard, Amanda Stuart, Marzena Wasikowska, Cedra Wood, and Amelia Zaraftis.
Open Space Visitor Center