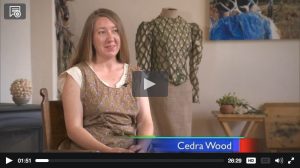 Contact: cedra[dot]wood[at]gmail[dot]com
In love with the wilderness, and with the complex and lonely terrain of the human heart, Cedra Wood makes paintings and drawings that marry the elements of both worlds in unlikely ways, creating narrative metaphors for humanity's relationships with the environment.
Wood grew up in the Texas panhandle, and after receiving her MFA at the University of New Mexico, has pivoted around NM while participating in numerous residencies, including Teton Artlab (Jackson, WY), The Arctic Circle (Svalbard, Norway), PLAYA, Sagehen Creek Experimental Forest and Biological Field Station (Truckee, CA), Ucross, and the Roswell Artist-in-Residence program.
She received a research fellowship at the Center for Art + Environment at the Nevada Museum of Art, as well as grants from the Harwood Emerging Artist Fund, the Elizabeth Greenshields Foundation, the Puffin Foundation, the RAiR Foundation, and the Andrew W. Mellon Foundation (via the Land Arts Mobile Research Initiative).